It has been years since I've worn a watch everyday - in fact, it was probably about 8 years ago, when I was attending San Joaquin Valley College and was enrolled in the Health Professionals Course (or whatever it was called)! I did love the white uniforms, the medical terminology and the wearing of a watch everyday!
Last week I was forwarded a link for ToyWatch, an extremely expensive brand of amazing watches that have been seen on the wrists of many celebrities recently and fell in love with these watches. In an effort to find one at not quite the same expense, I did a search on e-bay. And lucky me, found several of these watches that I just had to have (not that I need more than one, or that I will get more than one, but it was difficult to decide just which one I was going to bid on).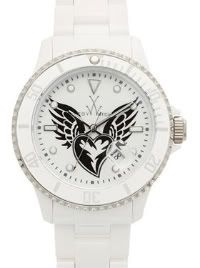 The picture above is a picture of 1 of the watches I really, really like!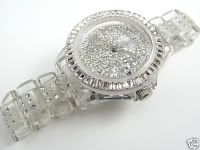 And the second picture is of the 1 that I bought!
What do you think of my purchase...hopefully it's as cute on as it looks in this e-bay picture!
*Disclaimer* Pictures are from ToyWatchusa.com and ebay.com. I am not a spokesperson for ToyWatch and they have not asked me to include this in my post - I just happen to be really crazy about cute, flashy, sparkly jewelry and watches!