Last weekend we had a great little visit at Kevin & Shannah's house with them, Michelle, David, Natalie, Papa & Grammy!
Here I am - Ryan on 1 arm and Natalie on the other. She eyeballed Ryan's sippy cup the entire time!
She finally got the cup in her mouth - and Ryan thought that was pretty funny!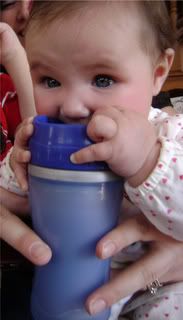 And here she is with her Grandpa! She was just hangin' out!
It was a great day at the coast. Natalie sure is growing and changing and soon (in a few months) we'll be meeting our newest nephew when Kevin & Shannah's boy arrives! We look forward to many more fun, family visits with all the cousins together!