That's what little girls are made of...and that's why I decided to have a bow-making day today with my good friend, Shelley and her daughter, Madison! I've been reading so many people's blogs lately, many of which have adorable daughters that love to dress up with frilly things and wear cutsie bows in their hair! I found instructions online for making korker bows and decided that was just the thing I wanted to learn to make. I spent an afternoon at Michael's picking out all the pretty ribbon and accessories to make hair bows.
Our finished product looked something like this:
Which, by the way, I am EXTREMELY proud of!! We made Madi 2 bows exactly like the one above and then 1 each of all white and all light pink...but a little smaller in size. Madi, I hope you wear your bows proudly and send me lots of pictures so I can show you off to all my friends!
We also decided on making hair bow holders. I have several different ideas on how these should be made, but decided with one 1 type for today. Here is Shelley's finished product for Madi's bows (including 2 of the ones we made today):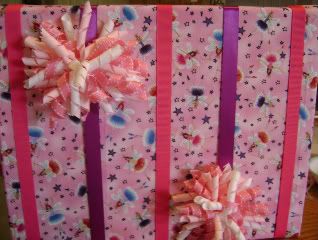 It's hard to tell but the fabric is pink with fairies on it and Shelley decided on pink and purple ribbon to match! And our final finished product for today, is the hair bow holder pictured below.
So, what do you think of my new project? If you have a special little girl you'd like me to make one of these fabulous hair bows and/or hair bow holders for, please let me know, I'd love to get started on it right away - it is something I can do while Ryan is napping or when he goes to bed at night!
I feel a little guilty for not having a cool crafty project to make for Ryan - so I think I might start searching for a cute Easter craft he can help me with...any ideas?
Happy first Saturday of Spring everyone!!