A few weeks ago while Jake was on a two week vacation (must be nice!!) we took a nice, leisurely Sunday drive. Can you guess where we were?
Although there is sand in this picture, we were not at the beach!
Ryan was pointing the direction he wanted to keep exploring!
We loaded up the car and headed towards Kaweah Lake and past Three Rivers. We drove to the gate at the Sequoias and then turned around and ate lunch at a nice little restaurant with a creek running along side of it. The picture above is of the blow-up Santa and friends across the creek at the restaurant.
We took a little photo shoot of Ryan hanging out on the rocks before we ate lunch.
We sat on the patio of the restaurant so Ryan could watch the ducks playing in the water and still see Santa and friends as well. For the most part, Ryan walked around the patio, climbed the stairs and hung over the railing while we ate our lunch.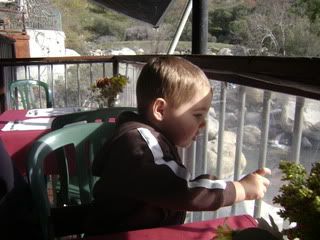 After lunch we drove back towards Kaweah Lake and stopped to play at Slick Rock Recreation Area where we climbed the rocks and played in the water. Ryan LOVED splashing in the shallow puddles in his rain boots!
I was trying to explain to him why he couldn't just go run out into the water, he wanted to go in deeper.